If you use Windows 10 for a while, you may notice that there are Search bar near the Start button, and it is annoying. Also, because of that, the search button will slow, because it needs to send the search result to Bing, and then showing up the result back in the computer. So, it is normal to have a laggy search in Windows 10. In this tutorial, I will show you how to stop Windows from sending your search result to internet.
Also, as a bonus, in this tutorial I will also show you guys how to fix indexing problems in Windows 10. Do you guys notice that if we search folder in C:/ Drive (Windows drive), you will found nothing? Well, I will show you how to fix this problem too in this tutorial! First, before we started along, I suggest you create a system restore point, so if anything bad happened, you can easily restore the Windows into working state. Second, log-in to your computer as administrator. If you are the only user, then you probably the Administrator itself.
1. Disable web search
There are two ways to disable search bar from searching on the internet. First, using "BingSearchEnabled" registry value, or using "DisableSearchBoxSuggestions" registry value. Two of them involve editing registry ̶of course. That's why I advice you to create system restore point earlier.
Windows v20H1 and up
So if you already upgrade your Windows to the latest version, you need to use this method. Open Registry Editor, and in the address bar, type this url:
Computer\HKEY_CURRENT_USER\SOFTWARE\Policies\Microsoft\Windows\Explorer
And press enter. In the blank white spot, right click and select New > "DWORD (32 bit) Value". Type "DisableSearchBoxSuggestions" in Value name, and type "1" in Value data.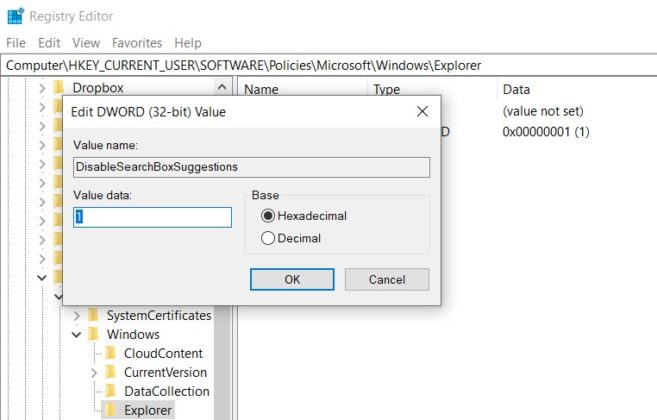 Click "OK" after that. Now restart your computer and try to use the search bar. It shouldn't show bing search results anymore. If this does not worked, delete the registry value (DisableSearchBoxSuggestions), and go to the next section.
Windows v1909 and below
If you have the older version of Windows 10, or the above steps doesn't work, then try this tutorial. Open Registry Editor, and in the address bar type this:
HKEY_CURRENT_USER\SOFTWARE\Microsoft\Windows\CurrentVersion\Search
And press enter. Right-click on blank white spot, and select New > DWORD (32 bit) value. Set value name to "BingSearchEnabled" (without quotation mark) and in Value data type "0". Press OK. Now, right click on "CortanaConsent" registry value and press "Modify…". Set value data to "0" and press "OK". Restart your computer and test the search bar.
2. Index all files
In this section I will show you how to fix indexing issues in Windows 10, which causing some files in C:/ not properly recognized. Even if you dont have any problem with search, I still recommend to change this settings. First, open Search bar, then press the three dot menu at right-top. Then press Indexing Options. If you confused, here is the illustration:
Below "More Search Indexer Settings" sections, press "Advanced Search Indexer Settings". This will open additional Window. Press Modify, and it will bring up more Window. Checkmark on C: drive, and press OK, and OK again. Here is the illustration:
Now, click on search bar and search something in C:\ drive. For example, search "Program Files" folder. It should show up now. Thanks for reading this tutorial, and see you in another tutorial!